Jaw Crushers ______________________________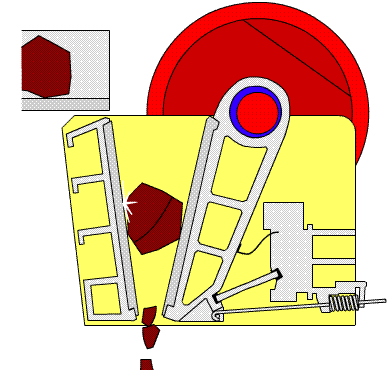 What is a Jaw Crusher?
A jaw crusher is one of the main types of primary crushers in a mine or ore processing plant.  The size of a jaw crusher is designated by the rectangular or square opening at the top of the jaws (feed opening). For instance, a 24 x 36 jaw crusher has a opening of 24″ by 36″.  Primary jaw crushers are typically of the square opening design, and secondary jaw crushers are of the rectangular opening design.  However, there are many exceptions to this general rule. A jaw crusher reduces large size rocks or ore by placing the rock into compression.  A fixed jaw, mounted in a "V" alignment is the stationary breaking surface, while the movable jaw exerts force on the rock by forcing it against the stationary plate.  The space at the bottom of the "V" aligned jaw plates is the crusher product size gap, or the size of the crushed product from the jaw crusher.  The rock remains in the jaws until it is small enough to pass through the gap at the bottom of the jaws.
AMI 2436 Portable Jaw
NEW, AMI 24×36 portable jaw plant

$199,000
AMI 3042 Portable Jaw

NEW, AMI 30×42 portable jaw plant

$225,000
AMI PE3242 Portable Jaw
NEW, AMI 32×42 portable jaw plant

$240,000
AMI 1040 Bare Jaw Crusher

NEW, AMI 10×40 bare jaw crusher

$26,600
AMI/Telsmith 3242 Hydra Jaw


no images were found

NEW, 2014 32×42 hydra jaw crusher

$
Gator 10×40 Bare Jaw Crusher

NEW, Gator 10×40 bare jaw crusher

$26,600
Gator 2436 Bare Jaw Crusher

NEW, Gator 24×36 bare jaw crusher

$54,750
Gator 2436 Portable Jaw

NEW, Gator 24×36 portable jaw plant

$189,000
Gator 3042 Portable Jaw
NEW, Gator 30×42 portable jaw plant

$209,000
Telsmith 3055 Portable Jaw
NEW, Telsmith 30×55 portable jaw plant

$491,000
Pioneer 4248 Bare Jaw Crusher
Used, 1954 Pioneer 42×48 jaw crusher

$85,000