Roll Crushers ______________________________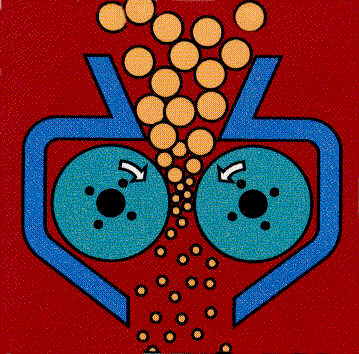 What is a roll crusher?
A roll crusher features a pair of large wheels or cylinders mounted on horizontal axis and crushes using compression, with two rolls rotating about a shaft, towards the gap between the rolls. The particles are drawn into the gap between the rolls by their rotating motion and a friction angle formed between the rolls and the particle, called the nip angle. The two rolls force the particles between their rotating surface into the ever smaller gap area, and it fractures from the compressive forces presented by the rotating rolls. The gap between the rolls is set to the size of product desired, with the realization that the largest feed particle can only be 4 times the gap dimension. When rocks, ore, and other materials pass between the two cylinders, they are crushed or ground into smaller pieces. A roll crusher can be used in a wide variety of applications, including concrete recycling, coal mining, and mineral or metal production. Some advantages of roll crushers are they give a very fine product size distribution and they produce very little dust or fines. Rolls crushers are effectively used in minerals crushing where the ores are not too abrasive and they are also used in smaller scale production mining of more abrasive metal ores, such as gold.
Call us for more information about our stock roll crushers. 765-349-5319